Why use H2Only?
No harsh chemicals:
Detergents and chemicals can leave unsightly spots and smudges on your windows. The H2Only system uses only pure, clean water, so it's kind to the environment, plants and pets - and your windows dry streak-free.
Superior Access:
Our innovative telescopic poles can reach windows in the most awkward places.
Minimal disruption:
No ladder damage to lawns and flower beds.
Improved Privacy:
Our operators work from ground level so there is less disturbance to you and your family and your privacy is maintained.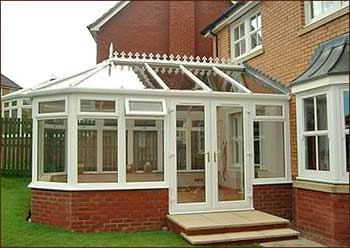 Conservatory, Porch?
No problem. Our telescopic poles are designed to reach over car-ports, porches, garages and conservatories
No access to water required:
"Can you fill my bucket missus?" is a

phrase you're unlikely to hear from our operators - we bring our own water supply with us!
Safety:
The H2Only system requires no ladders, so no undue pressure or stress is exerted on conservatory glass or structure. European law makes working at height illegal if there is a viable alternative. Our ladderless systems helps us to comply with current Health & Safety regulations

Not just Glass:
We don't do "half a job" like some other companies; where possible we clean the whole window - frames and all. With H2Only the whole window looks squeaky clean.
---
Once you've tried H2Only Window Cleaners you won't want to go back to the old way - that's a promise! Call today and book an apppointment for your free, no-obligation quotation